Projects
Town of Ray compressor project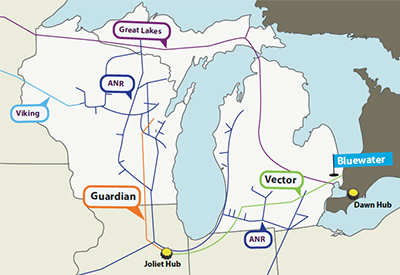 Bluewater Gas Storage has proposed a compressor project designed to increase operating pressure for its system.
Bluewater's current interconnection with Vector Pipeline does not allow direct delivery of the required amount of customers' natural gas needs due to the varying pressures between the Bluewater and Vector systems. This has required rerouting the natural gas to other third-party pipelines for delivery, which results in additional costs.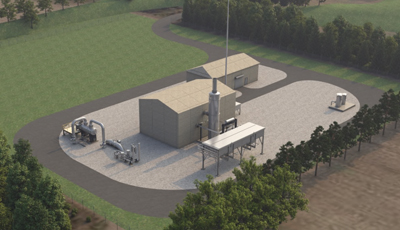 A new compressor would increase Bluewater's operating pressure, taking full advantage of the Vector Pipeline interconnection and eliminating excess costs for rerouting the contracted amount of natural gas.
Pending Federal Energy Regulatory Commission (FERC) and state review and approval, construction is expected to start in mid-2020 with completion in 2021.
Notice of application for compressor station –To access compressor station FERC filings, go to https://elibrary.ferc.gov/idmws/docket_search.asp and enter the docket number, excluding the last three docket number digits.
Questions and answers
Is this facility needed, when there is another compressor station 3 miles away?
Yes. The compressor station to the south is not large enough to deliver the required volume of gas needed.
Is this a gas storage facility?
No. This is a compressor to increase Bluewater's operating pressure into the Vector Pipeline.
Can we get natural gas to our homes from this system?
No. This is a natural gas transmission pipeline – not a distribution pipeline for residential service.
What type of lighting will be used at the site?
Lighting will be directional LED – not traditional yard lighting. Lighting will be minimized when the facility is unoccupied. Use of full cutoff light fixtures will minimize off-site glare.
What is the expected sound level at the site?
The U.S. Environmental Protection Agency has determined that an average day-night sound level of 55 A-weighted decibels (dBA) protects the public from indoor and outdoor activity noise interference. New or modified compressor equipment will not exceed this level at any existing residences.
Will the road be treated for dust and graded frequently before paving is completed?
In accordance with FERC guidelines, we will have a dust prevention plan for the road and construction site.
Will electricity service be interrupted?
Any necessary power outages would be at the discretion of and coordinated by the local electric utility.
Will the facility be monitored in case of emergency?
Yes. The Town of Ray compressor facility will be monitored 24 hours a day, seven days a week, 365 days a year. Local emergency response would be from the Ray Township and Macomb County authorities.
How often are compressor facilities audited and inspected by government agencies?
Pipeline and Hazardous Materials Safety Administration (PHMSA) has jurisdiction for this facility and inspects pipelines and compressor stations at a three-to-five year cycle. PHMSA will perform a post-construction inspection within one year of the facility going into service.
What are the chances of this facility being expanded for future demands?
We have no plans to expand the facility. The proposed compressor will be able to handle the amount of natural gas being delivered from the Columbus III facility.
Are area fire and emergency departments trained and equipped to handle emergencies at a compressor facility?
Yes. Bluewater works closely with Macomb County emergency responders to provide training and drills.
Where can I get answers to other questions?
If you have questions about Bluewater Gas Storage's safety and environmental stewardship or emergency response, contact
Kelly Zagrzebski
715-848-7342.